Sofia Krusmark (SK): How did you get started with photography?
Jon Henry (JH): We're both amateur photographers. That's where it started, in a sense. When I was supposed to be in school, when I was supposed to be in college, I was just never going, and I was going to hang out at the Met Museum to study painting pretty much every week for hours on end. There were a bunch of little moments that always drew me to photography. My friend having a digital camera in high school, and that seeming cool as hell. I'd always been around photography, and then just walking around school with my disposable camera, just documenting me and my friends, but I never really took anything seriously until much later.
SK: When was that, the much later?
JH: Probably not until 2010. It was when I was like, "Yes, I want to pursue it or at least really focus in on it." I was really interested in sports photography. I used to be an athlete, so I was interested in photographing sports on field. I got to do that for a little bit for the Mets and the Jets here in New York. I did it for a little bit, but I didn't really care for the images that much, or the industry. It was a little boring. I thought that there were definitely more interesting images that could be made, so I wasn't too heartbroken to leave that.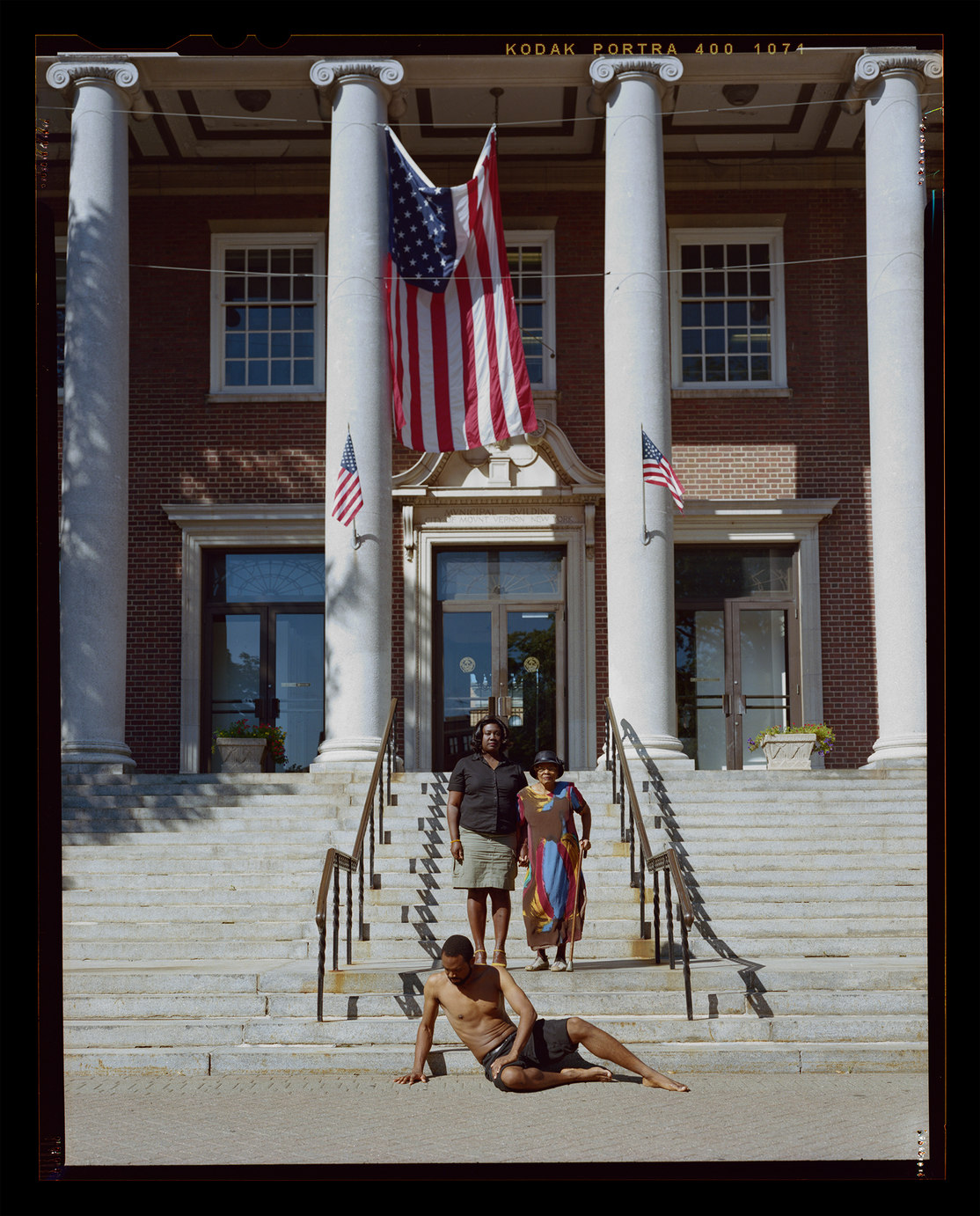 SK: I'd love to understand more about how you decided upon your project Stranger Fruit.
JH: The project began in 2014, but the concept began in 2008. I'd just come back from Vienna, vising my sister and the family, and that next day that I was going to work there was the verdict of the Sean Bell trial. Sean Bell was the young man who was murdered here in Jamaica, Queens. That case really hit home for me because I was born and raised in Queens, New York. I'm always spending time in Jamaica. There was a strong familiarity with all the events and all the people involved. Later that year, one of my good friends was getting married, and I was part of the bachelor party. One of the things I was thinking, I couldn't get out of my mind, was what if this was happening to him? What if this was happening to us? I knew I wanted to say something about it. I just didn't know what to say or how to say it because I knew a little bit of art, but I didn't know—at the time, I wasn't really shooting anything serious. I was just photographing whatever I photographed, and then, later on, I started photographing athletes. I was just doing research and studying. The more I was learning from 2010 on, that led me to finding a way to speak about it. That's how I made the first image. That's how it all started.
SK: Tell me a little bit about the story behind your first image.
JH: The first image was 2014. I shot it in the church that I used to work in, St. George's Church. It's a historical church in Flushing, Queens. I used to work there for fifteen years or something on Sundays, taking care of all the folks for services. I had access. I was always in the church, always hanging around the church. I used to live ten minutes away. The photo studio was there. I had some equipment. I reached out to a friend that I was interested in doing this project. I told him and his mom, and they came through. It was a Sunday night, and we shot it.
I wanted that first image to be a little more theatrical. That's the only image in the series that I lit with strobes. Everything came together in that one image. I was interested in staging, building a set, and creating the elements to frame it all up in the composition. It just all magically came together. Even at the time, I did a couple takes, and I shot it all 4×5. I knew that I wanted to shoot it on film, and I wanted to shoot it on a large format. This was one of the first times I'd ever shot anything on that camera.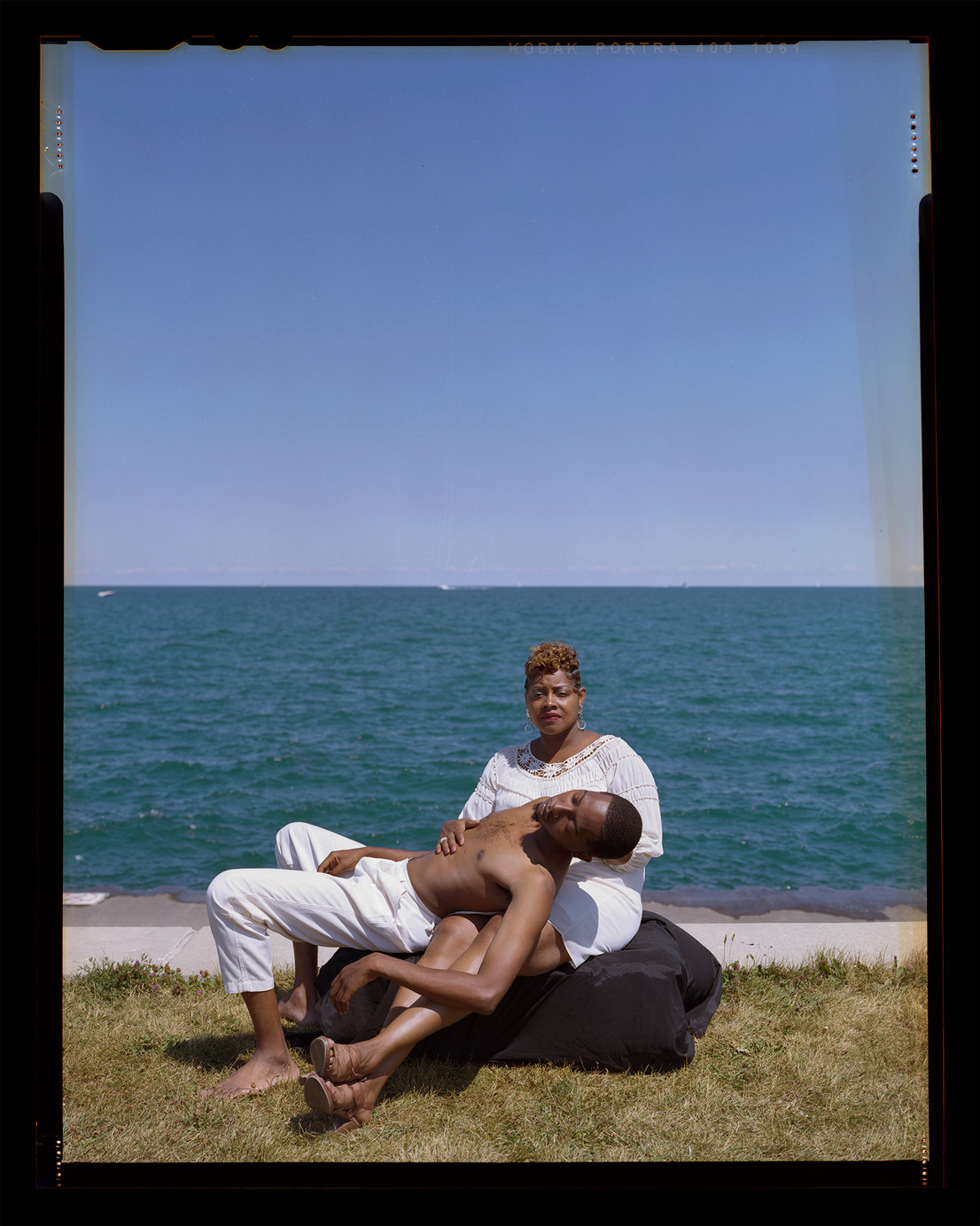 SK: You mentioned the man in your community who was murdered. What was it like growing up in your personal community? What was your experience in Queens? Queens is where you are now?
JH: Queens is where I'm from.
SK: Right.
JH: In relation to what had happened?
SK: Yes, in relation to perhaps racism, in relation to—what was your experience growing up there?
JH: Racism is everywhere, but as far as police brutality and stuff like that, I was too young to really understand Rodney King. I knew the story, and I knew what happened afterwards, the riots and stuff, and I knew the footage, but I was maybe nine years old. I couldn't wrap my mind around what was happening and why it was happening. Also, I'm in New York and not in LA, so it was a bit different. There were another two instances that were really largely publicized here in New York. One was Amadou Diallo, and the other was Abner Louima.
Abner Louima was the man who was pretty much assaulted while in police custody. Then Amadou Diallo was the young man who was murdered because he had an orange wallet and the police thought it was a gun, and whatever. It was forty-one bullets or some craziness like that. Those two instances really had me on, not edge, but gave me a peak sense of this is something really serious. Also, it happened right here in our backyard.
Then Sean Bell happened. That was another tipping point because Sean was about the same age. Just the familiarity with the neighborhood and that it could be anybody. Easily, I could have had friends there or I could have been there in Jamaica, Queens, that night. So that's what I was always thinking about, because that was 2006. I was just thinking about that the entire way through.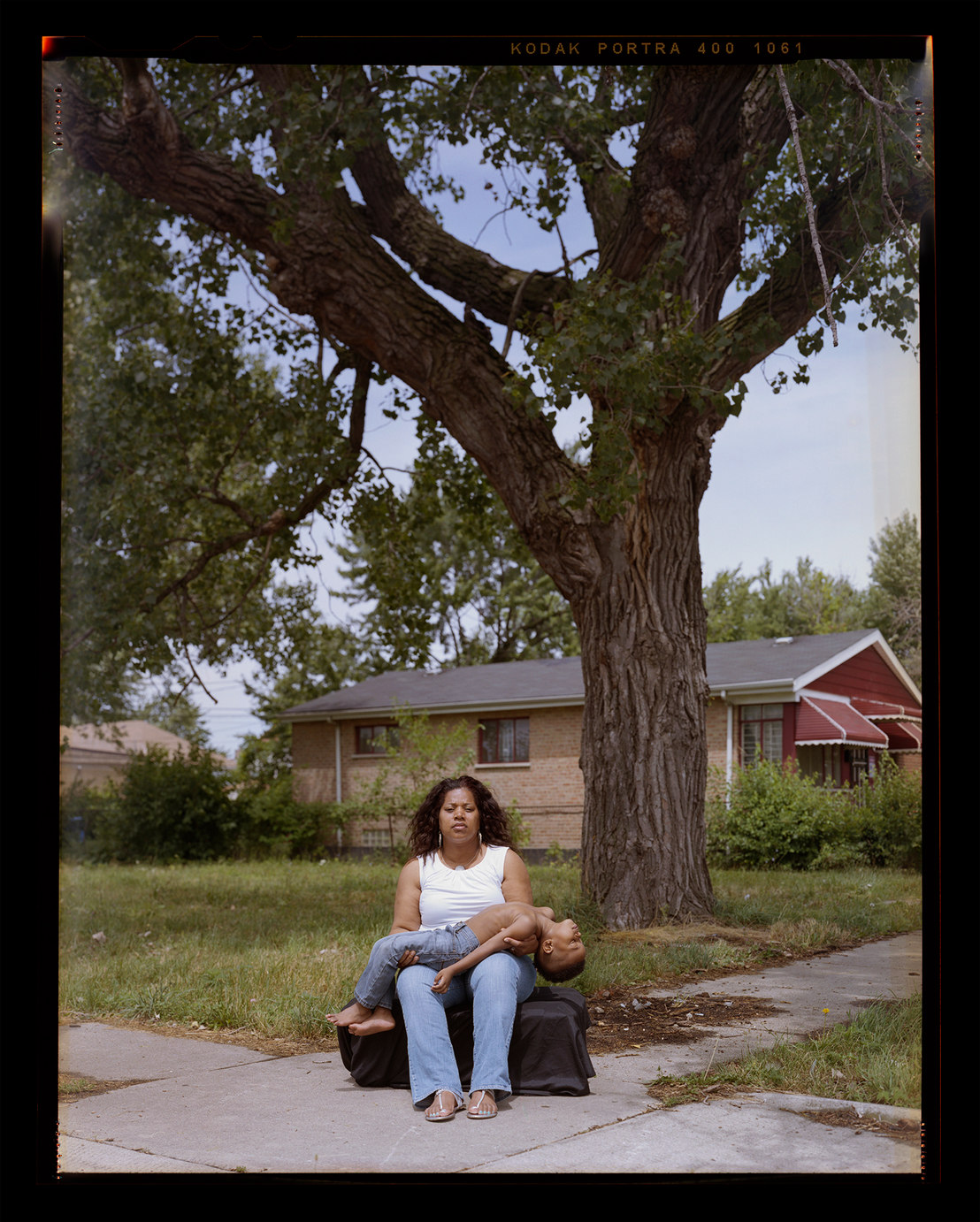 SK: What compelled you to choose photography as your medium for this?
JH: I was always interested in photography because of my parents. Since I couldn't paint or draw at all, photography was the most suitable landing spot to tell the story visually, because I'm a visual person and interested in the visual arts. I don't have the means to sculpt. I didn't go to school for that. Same with painting, I didn't—I couldn't paint anyway; I didn't have the means for it.
The photo was easy because it was a physical object. I can't remember when I got my first digital camera, but it was something tangible. It was small, it was easy to travel with and record. Now, of course, it's super easy because everyone owns at least three devices that can make an image. At the time, it just made the most sense. I was just interested in visual arts, and photography was the best medium for that.
SK: As the United States is reflecting more deeply on the legacy of racism, why is it important for Black Americans to create space for their own perspectives in the larger conversation?
JH: I think they've been creating the space, it's just that now people are paying attention to it. It's just crazy. Artists have been putting in the work, have been talking about this. Stranger Fruit was created in 2014. It hit the scene as far as being exhibited in 2017, when it was with Aperture Foundation in their Summer Open. That started the wave of it being shared widely, but it hasn't really hit mainstream until now. There are dozens, scores of artists who've been working and speaking about this for years, but now people are finally paying attention to it.
It's good and bad. It's stressful that we couldn't—we should have been having these conversations in 2006, not just 2020, but here we are, so we might as well have them now. I don't know. I can't really speak for other artists. I'm glad that people are seeing the work and able to engage with it, but they have to keep it up. It can't just be like a flash in the pan. It's super easy for it to be performative, where corporations or publications or whatever it is just focus on Black stories only when it's February, or whatever, but then never come back to it.
SK: How did you decide on the title Stranger Fruit for your project?
JH: I was always interested in the song "Strange Fruit," in particular—I know Billie Holiday sang the original, but the Nina Simone version was always the version that I connected with. I just love her voice and all of her work. That song is speaking directly to the Antebellum South, bodies being lynched, being the strange fruit hanging from the trees. Stranger Fruit was a play off of that, where lynching, even though there have been cases of lynching in this year—lynching isn't something that you see every day or every week, obviously not as commonplace as it was in the post-Civil War South, but these crimes are still happening in a way where lives are lost and, again, for no reason. There's a relation to lynching, where the body is just being taken—people would be lynched in Mississippi for absolutely no reason—and then people are dying now due to police brutality for the same, for absolutely no reason. There's no justification for any of it; so that's where it came from, and why it's Stranger Fruit. Similar themes but different times.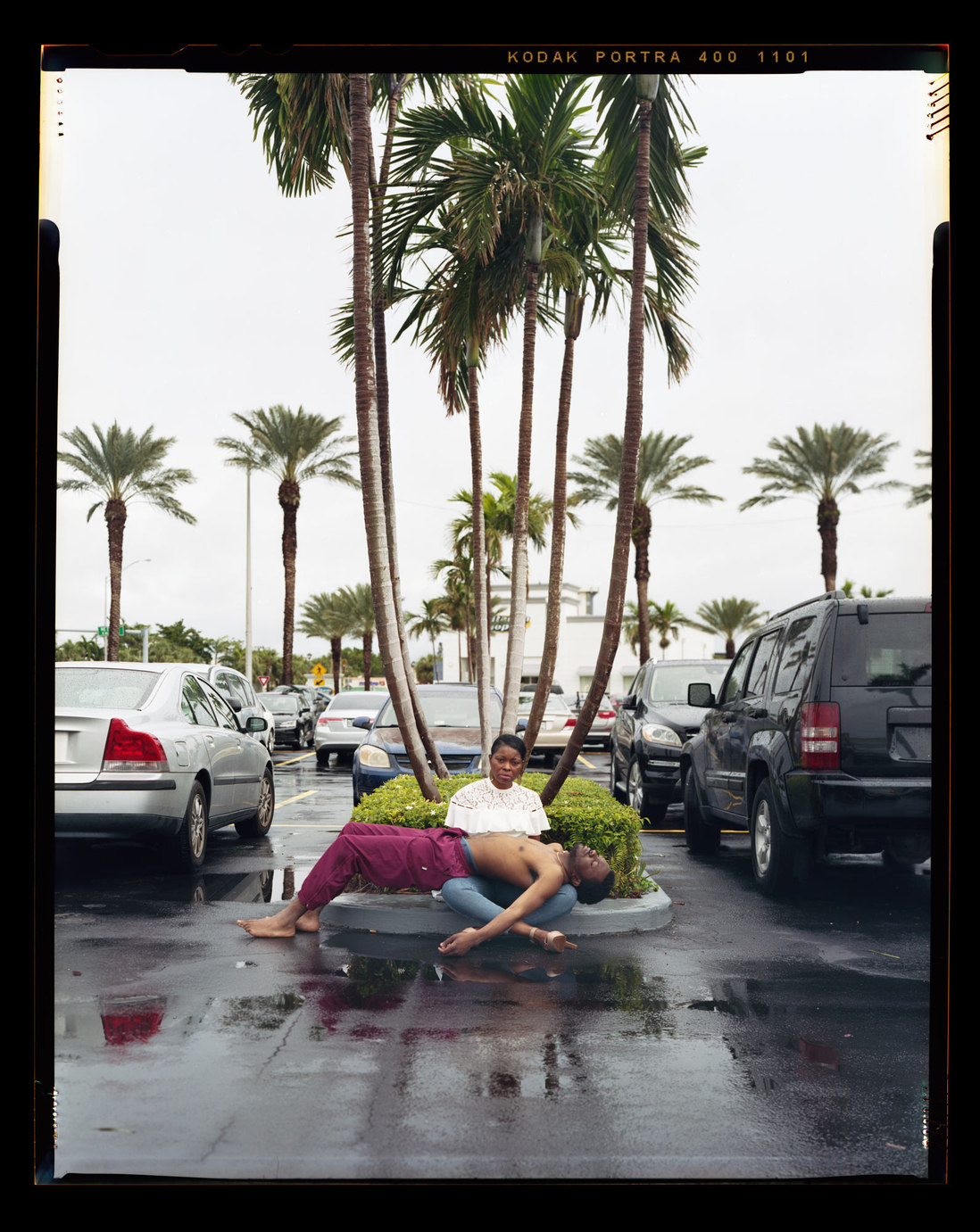 SK: What was your thought behind capturing mothers and sons in your project? How did you get to that idea, to capture the two of them?
JH: Well, since I used to work in a church, and since I used to hang out at the Met studying Renaissance paintings all day, I was very familiar with the Pietà, with that motif. That was a pretty easy landing ground, thinking of my relationship with my mother, and thinking of Sean Bell and his wife and the family, and my friend who I was at the bachelor party with and his mother.
Thinking of those relationships of mother and son, and that dynamic, the Pietà seemed like a natural landing ground, because it was just so direct, it was so strong. That it was just talking about a mother and son, that was important. Also, one of the things that's amazing about Stranger Fruit, is when you strip away race, you're just left with a mother and a son.
That's another way, another strategy for the series to work as a connecting point for people who are not Black to understand what is going on or to be able to relate to it in some way. Obviously, they'll never be able to relate to it on a personal level, they'll never have to worry about what these mothers have to worry about, or what these families have to think about across the country, but it will open their eyes to the possibility that what is going on is very real, and nobody wants to lose their children.
SK: Why was there the desire to incorporate that religious symbolism into your work? The Pietà's a very Christian symbol, the mother of Christ and Christ.
JH: I've always been connected to it through working in the church, and looking at—obviously, I've been studying the stained-glass windows that we had, and painting from the Renaissance and classical era, and all that stuff, so I was always drawn to it and always just connected to religious iconographies. It was something that I've experienced and encountered a million times.
SK: Was there a way in which you connected with your Christian faith differently, or working on this project enhanced it?
JH: I don't know. I don't know if it enhanced it. One thing I did a lot was research, so it was very interesting to see all the different renditions of the Pietà, and from different artists, from Titian, to Bouguereau—you had contemporary versions like those from Andres Serrano, Renee Cox, David Driskell. It was interesting to see that and how artists would take a motif and apply it to themselves in their own work. I'm not sure about spirituality though, how it has affected my religious beliefs or whatever. I just make the work, and I'm thinking about the larger scale of the work and what it means, what these symbols mean, and that relationship for the community and across the country.
SK: How do you find the women and the sons who you photograph?
JH: Some people reach out independently, through Instagram or social media. Most are through friends of friends. In the first year, a few were friends and family, but most of the folks are through recommendations. A friend will know a family in this location or that location, and they'll reach out and potentially set something up. It's friends of friends and different folks just saying, "I know someone who might be interested," and I reach out.
I have a FAQ email that I send out that has all the details about myself, the project, why I'm doing it, what I'm doing, and what to expect when the shoot is happening, or what to expect from me. That's really how it is, that's most cases. LA was a little different, in LA I was out there on the street just reaching out to folks face-to-face, so there are a couple of different ways of trying to find families, because it is difficult.
SK: What makes it difficult?
JH: Well, there are a bunch of things. The mother and son have to live in the same area, that gets to be difficult, especially with older children or adults, and then scheduling work, school, when is a good time for each person, and then also scheduling that out in advance, so that I can fly or take a train to whatever location it is. Whenever they say they're available, then we go. Right now, I'm booking for St. Louis, because we're going to be out there in three weeks photographing two families. Everything is done in advance. It's difficult, but that's the way it is.
SK: Is there something particular you're looking to find in the families you're asking to do this?
JH: No, I'm just looking for African American mothers and sons and mixing it up as far as location goes, because the project is not just a New York issue, it's a nationwide issue. That's why I want to go to as many locations as possible or at least give as great a variety of backdrops as possible. It's not like I'm interested in hitting all fifty states. I'm just interested in showing what it looks like here versus what it looks like here, what it looks like in New York versus Alabama, which will look very different from Chicago to Florida and all these other locations. There's nothing specific about the families that I'm looking for. I get out there, and I figure out the compositions when I'm there.
SK: What goes into the composition process? When you're looking at a mother and a son and you're looking at the backdrop, what does it look like to compose the image that you hope to develop?
JH: It's all in my head. I'll come in with an idea of how I want to—with the basis, what I want to do. Obviously, the mother holding the son, preferably, but it all depends. I never find out until I get there and meet the family, because I don't know scale, I don't know how large the mother is, how large the son is, how many sons there are, sometimes. It's all in the moment, I just have to figure out what makes the most sense visually, what can tell the story, but still be really strong. If it's two sons, then what does the second son do? If it's three, how do we position the bodies? Four? Whatever it is, it's all problem solving. That has to have some type of harmony with the background and with the setting so that it all comes together.
SK: What does the process look like when you get there? I'd love to hear a typical day of you shooting, traveling, let's say, to a different state. What does it look like from start to finish?
JH: It's a lot of work. I usually will pre-scout the location through Google Maps, just so I can see the land and see what is available and what's out there. Also, to give an idea of potential backdrops and indicators of the location, meaning Florida would be palm trees, or whatever. I meet up with the family, and then—it's crazy because I'm working large format, which is a slow process, but I also work really fast. We'll talk for a little bit, we'll talk about the image, talk about where we'll do it and all this stuff, and then I'll just start assembling the camera, set up the frame, and then have them stand in, sit in.
We'll run through a couple takes or whatever you wanna call it, and then we'll make the image. I only make between two and four images for every set. It has to be perfect or as perfect as possible when we make the image because I can't afford to take ten photos of each set. It's just too much. Just two to four images and then, boom, we're done, and we move on, do the other image, we'll talk for a little bit and it just—again, it depends on their schedule. If they have time, we'll spend a little time. If they don't have time, then we'll just go out there and make the image and keep it moving. It just depends, it all varies.
SK: How do you cultivate authenticity in the photos that you're taking? I've looked at them, and they're really powerful. How do you cultivate that authenticity and the realness between the mother and son in each photo?
JH: Well, I think it ties back to the camera, to the process of large format. Because it's one sheet at a time and because it's a slower process, the families, the mothers, especially, have to really get—it takes a while, and you're holding your son in that position, it really sinks in, the weight of everything, the weight of the project, the weight of their son, the weight of what all of this means in the larger context.
That helps. I think that helps tie back to what you're saying about the authenticity. It has to be a mother and a son. These aren't actors, they have to—there's a specific way that a mother would hold her child, and I think that's one of the things that does ring true in the project. Again, understanding what all of this means and why we're doing it definitely helps.
SK: I've looked at a few of your photographs, and some of them actually have more than just the mother and son. How do you decide to incorporate certain people within the photo?
JH: If there are multiple children, then I'll usually include them. It depends on who's available and who's there. It's a good problem to have. I usually don't know until I'm there, but it gives the opportunity to make new constructions, new compositions with multiple children. There are a lot more ways that you can tell the same story but in a different fashion. Having one son look at the mother or looking at the body or looking at the camera, slight gestures, hand on the shoulder, hand around the back, consoling. It's a number of different things that we can do visually, and that helps keep the project fresh, in my mind, and not repetitive, even though it is the same motif being used, over and over.
SK: What is one of the most meaningful stories you've been able to capture?
JH: There are a lot of stories. Every image has its own story of why it's important for the project and why it's important to the families. I don't know. I would say, just generally, it's amazing seeing the honesty in the mothers and the intense love that they have for their children, which, of course, you would imagine and think that any mother would have. Again, it shows how real this situation is, that it's just terrible that we live in this country where these atrocities can happen and people disregard life so easily. None of this stuff is normal or should be commonplace. We should never become numb to it. I think that's really what's most bizarre about it.
SK: I've seen that you've been working on this project since 2014; you even said that you started the thought process in 2008. How has the project evolved since you started it?
JH: It's just grown more and more. The first year of the project, I made a couple images, but not a lot. Then slowly, it started to branch out and find new locations, and with more images that also helped to be able to show potential families, "This is what I'm doing, this is why I'm doing it." That helped to get more yeses for the project or people signing on. It's something that's just grown over time, it hasn't changed very much from the initial outlook. The text component on it was a year in, when I really started to focus on that, with the words of the mothers in the project, but it's been pretty consistent throughout. It's just been important to get to a variety of locations and make sure that that is woven together.
SK: What are you doing right now to complete the project?
JH: I'm just trying to get a couple more locations. There are only three to four locations that I really want to get to next. St. Louis is one I'll be in, in a couple of weeks, but I'm trying to get to Utah and Omaha as well. Those are two pretty big locations I'd like to photograph in, and then that's it. Then the project will—I think it will be done. I think we've said what I want to say and what I've needed to say. Projects do need an end, and I think this is time for Stranger Fruit to end, and also, it's time to work on the book, turning this project into a book.
SK: That's fantastic. What is your desire for the book? What do you want that to look like?
JH: It's going to be a standard monograph. I probably want to do an artist's book as well, like a super limited-edition book that is large scale but also has field notes of the stories that have gone on with the families that wouldn't fit in the monograph. Because the monograph is going to be pretty straightforward as far as image and text and essays. We shall see. I'm ready to get to work on it. We'll go from there.
SK: What texts and essays are you hoping to incorporate with the photos?
JH: Well, the text from the mothers is going to be in the book, of course. That's going to be important because those marry with the images, not like pairs, but the words are as important as the images; and then just essays. Definitely want to commission an essay or two for the book, just to round everything out.
SK: What has been the response to Stranger Fruit thus far?
JH: It's been overwhelmingly positive. A lot of people have reached out and sent their love and congratulations for the work. Especially in the last couple months, as it's starting to pick up more and more viewers and receive accolades as well. It's been overall really positive, and that's been great. I'm just focused on completing the work, getting it all done. There's no rest over here; it's just getting ready to make the rest of these images, and let's finish the project.
SK: What is your ultimate goal for the project?
JH: To finish the damn project. I do not know. Everyone asks that: "What's the goal?" It's already doing the goal, which is to speak to acknowledgment and awareness of what's going on. This is a serious issue that we've been talking about, and, again, we've been talking about it for years. Not just talking about it right now, but we've been talking about it for years, and hopefully showing this in a different light that can open different viewpoints.
Meaning that it's not the same stuff that you see on TV about the murders, and then the protests, and then the trials, and then the protests. Just a more nuanced way to look at this situation, because everyone wants to gloss over the fact, but, again, mother and son or daughter or trans life, whatever it is, lost for absolutely nothing due to police brutality. It makes no sense. Why are we still having these conversations that we've been having for twenty, thirty, one hundred years?
SK: Just going back, why was the Pietà, that religious symbolism, the most effective, in your opinion, to convey the atrocities happening toward the Black community?
JH: There's a mother-son connection, that family connection, and then just this moment of grief, suffering, which led into what these families have to go through. None of these families should have to endure the grief and suffering that this community—even, again, it affects everyone. It affects the families who have lost, obviously, because their family members are gone, but it also affects the millions of African Americans who have not lost their children but understand that this is the world we live in, this could happen for no reason.
SK: You mentioned that you worked at St. George's Church. How did your work and your time there play into this project?
JH: It was just a launching board as far as the religious iconographies that I would be interested in across my work. I use religious iconographies and classical paintings as a reference for the majority of my work. Even when I work with athletes, there's still that feel of the Renaissance or painting. I've always been glued to that in one way or another. It's repetition, it's one of those things that you grow into. When you experience something enough, it becomes second nature. Now, every time I work on a project, that's in the back of my head.
SK: Why is that? Why is religious iconography so closely tied up in your work, and why have you chosen to do that?
JH: I grew up in a church. My mom still sings in the choir when she goes to church, and I've always been around it. Like I said, I've worked there every Sunday for fifteen years, so it was just second nature. I don't know. I've just always been around the church and always heavily influenced by the artwork there, again, from being a visual artist, and also the sculpture and all this stuff. That was the first art that I was glued to because I was seeing it every day or every week. When it came time to make my own work, of course I would use that as a reference.
SK: Aside from being around it and it being second nature, obviously there comes a choice to being involved, to continuing and sticking close to that. What has been your draw to continue to represent religious iconography through your work?
JH: Well, one is just stylistic choices. Two, it's also an easy bridge for people to understand, because people who—some of the visual strategy for people to connect with the work. People may not know anything about the story or anything about Stranger Fruit, but they may see the image and say, "Oh, that reminds me of the Pietà," and then that brings them in. Again, there are a lot of visual strategies in the work that I use over the course of the images, and it's stuff like that to tie the viewer and bring them in and keep them and keep their attention.
SK: Something that I'm curious about is, when you talk about bringing people in through the religious iconography, obviously there's a lot of religious difference in society and in the world. I would love to understand why you think it's still a poignant, universal picture to use regardless of religious difference.
JH: Like you said, it's fairly universal. The Pietà, whether someone's Christian or not, they've seen that reference somewhere. Of course, for a Christian it's immediate, they can recognize it from a mile away, but yet even if they're not like that—even without it being the Pietà, there's something about cradling your child in that fashion that's really important and also really beautiful. It serves different purposes. Again, using the Pietà specifically, talking about suffering, and talking about grief, and talking about all these keywords. It's easily identifiable for someone in passing to see it, notice it, and realize the gravity of it, of the work.
SK: Fantastic. Well, thank you so much, Jon. I'm so thankful for this opportunity. This was a great conversation.
JH: Thank you.