Rachael Banks (RB): Who is Margaret?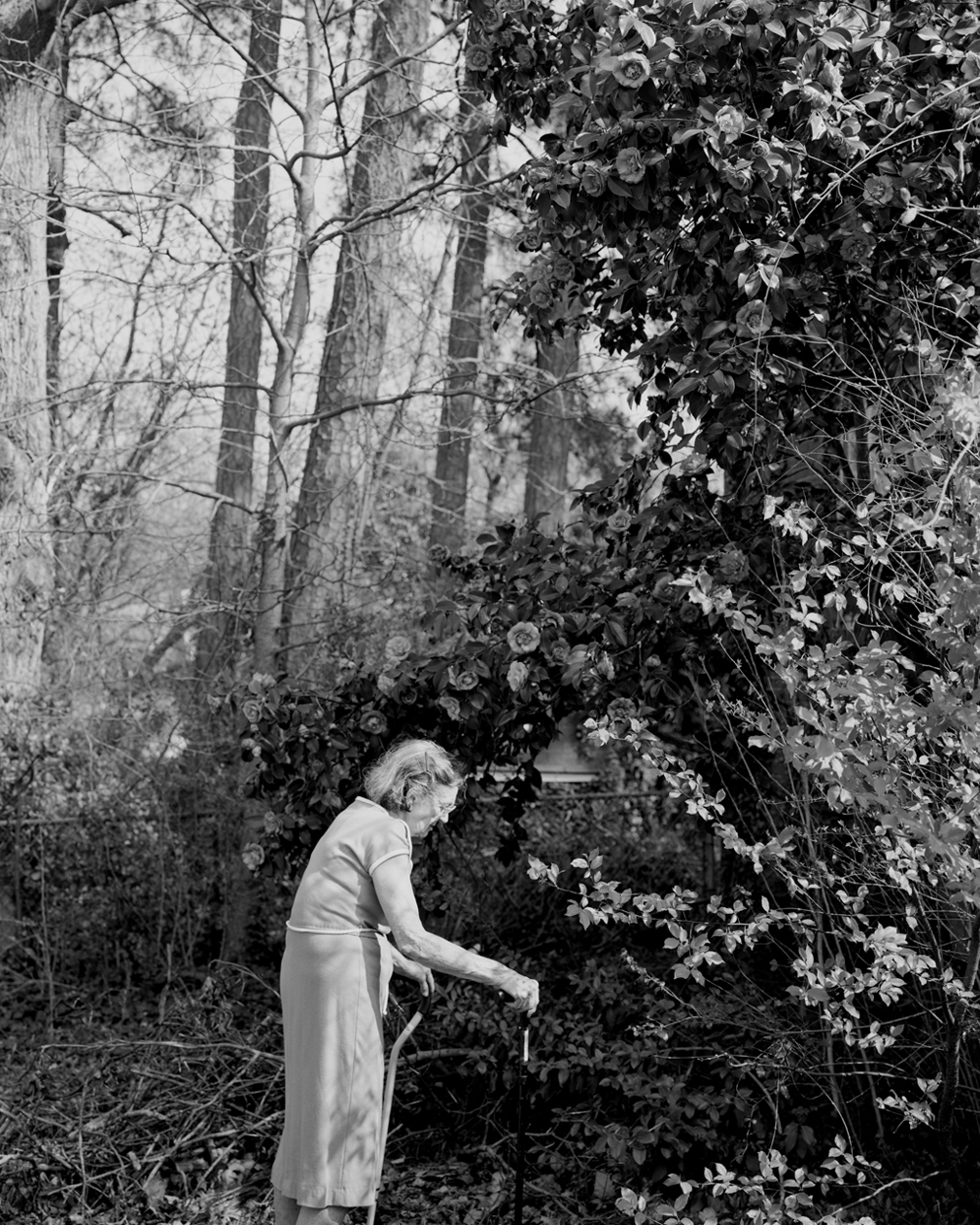 Susan Worsham (SW): Margaret, who is now ninety-three, is my oldest neighbor from my childhood street. Bostwick Lane was very special in that the whole neighborhood was an extended family nestled in the woods. I remember when I was a little girl, I tried carving a pumpkin, but the knife rode down my finger instead. My mother was not home, so I ran screaming up to Margaret's, and she cleaned and wrapped it for me. I still have the scar. My favorite story though is when Margaret called all of the neighbors to meet in her yard. There we stood in a ring of flashlights waiting to see Margaret's night-blooming cereus, which only blooms for one night. As a young girl, staying up past my bedtime to watch a flower bloom by the light of all of my neighbors' flashlights was pretty awesome. So she has always been a figure in my life, but I think she became a figure in my work when she told me the story of my brother's last day. I was making a portrait of Margaret, and as I was focusing under the dark cloth, she said to me, "I remember your brother's last day. I made him my homemade bread, his favorite. I buttered a slice and took it up to him, and he called down, Margaret can I have some more of that bread? He finished the whole loaf, and then me and your mother went for a walk down the lane, and when we came back he had shot himself." I knew that my brother had taken his own life after being paralyzed in a motorcycle accident, but I did not know that Margaret was the last person to see him alive. No more than two minutes later she tells me another story. "And I remember when you were a little girl. I made you my homemade strawberry jelly, and you wanted to eat it on your new clean white bedspread. You went upstairs, and me and your mother followed. You were a mess . . . you had jelly all over that bed." If you read between those two stories, those two stains, that is the part I don't want to see: the mess of a different kind left on the bed after my brother shot himself. I don't want to see it directly, but through my work I can deal with it a little at a time. So most of my work uses that contrast.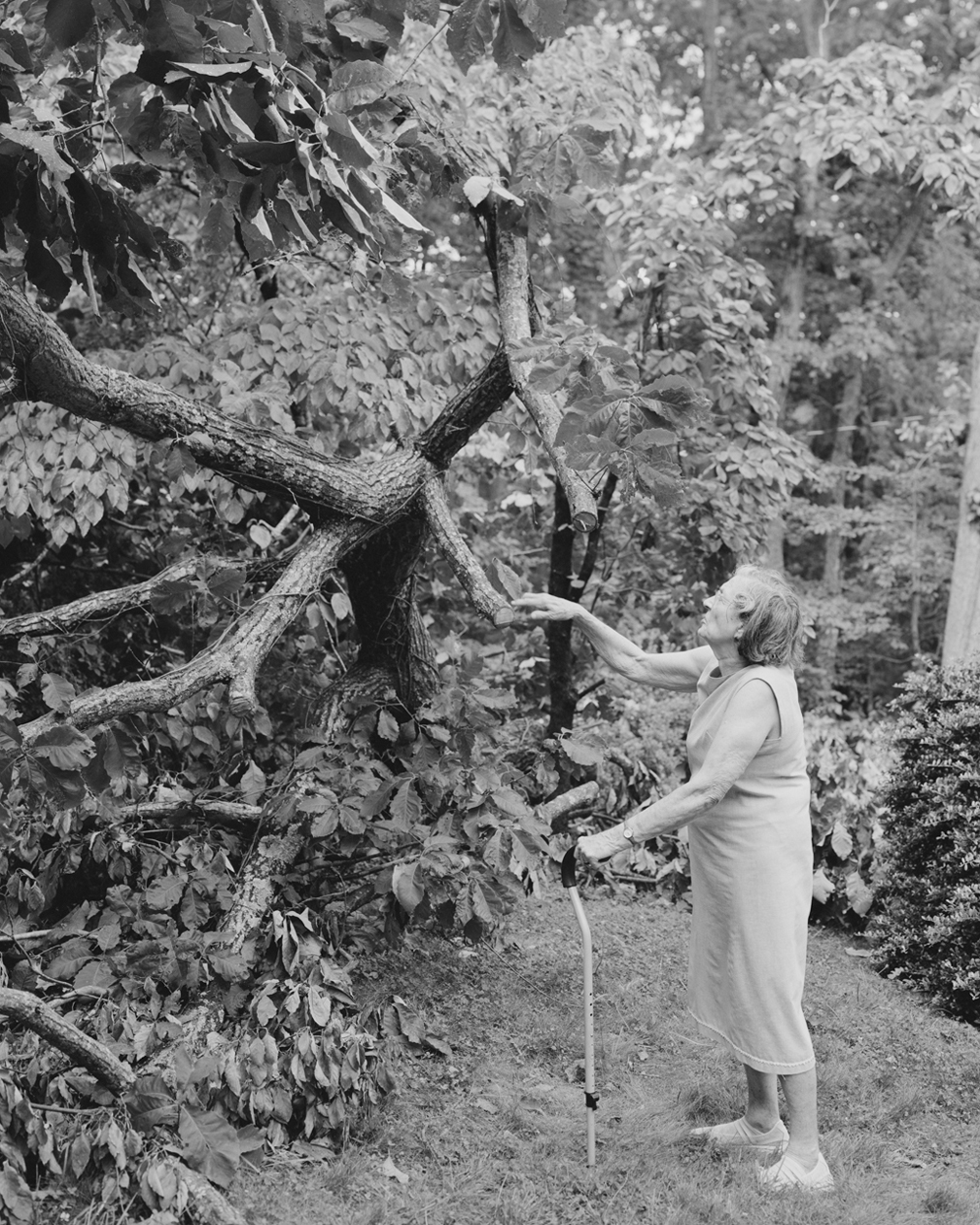 RB: To what extent do you consider your work with Margaret collaborative? Is she more of an involved participant or a co-collaborator? Does Margaret give input on the work as it's being created?
SW: Margaret gives my work a great intimacy that I am so thankful for. She has given me her voice, her stories, and her home. At Margaret's I've learned that making bread, carving fruit, catching the juice of apples, collecting walnuts and picking out their meat, are just as much a part of my body of work as the photographs that capture the stain of that work. She pays no mind if I walk into the kitchen, take the bread and jelly right off her table along with the sticky knife, and go downstairs to photograph it in the good basement light. Once taken, I return her lunch, and she resumes eating. Margaret is very present. She notices the things that interest me. She is still very much a teacher, and when I have a question, she tells me to bring her the encyclopedia or her book of flowers, and we look it up together. When I ask her about the small red nest of berries hanging in the tree outside her picture window, she tells me it's bittersweet, and in that moment I find my title, Bittersweet on Bostwick Lane. She has me go and fetch some from the trees, and we dissect it at her kitchen table.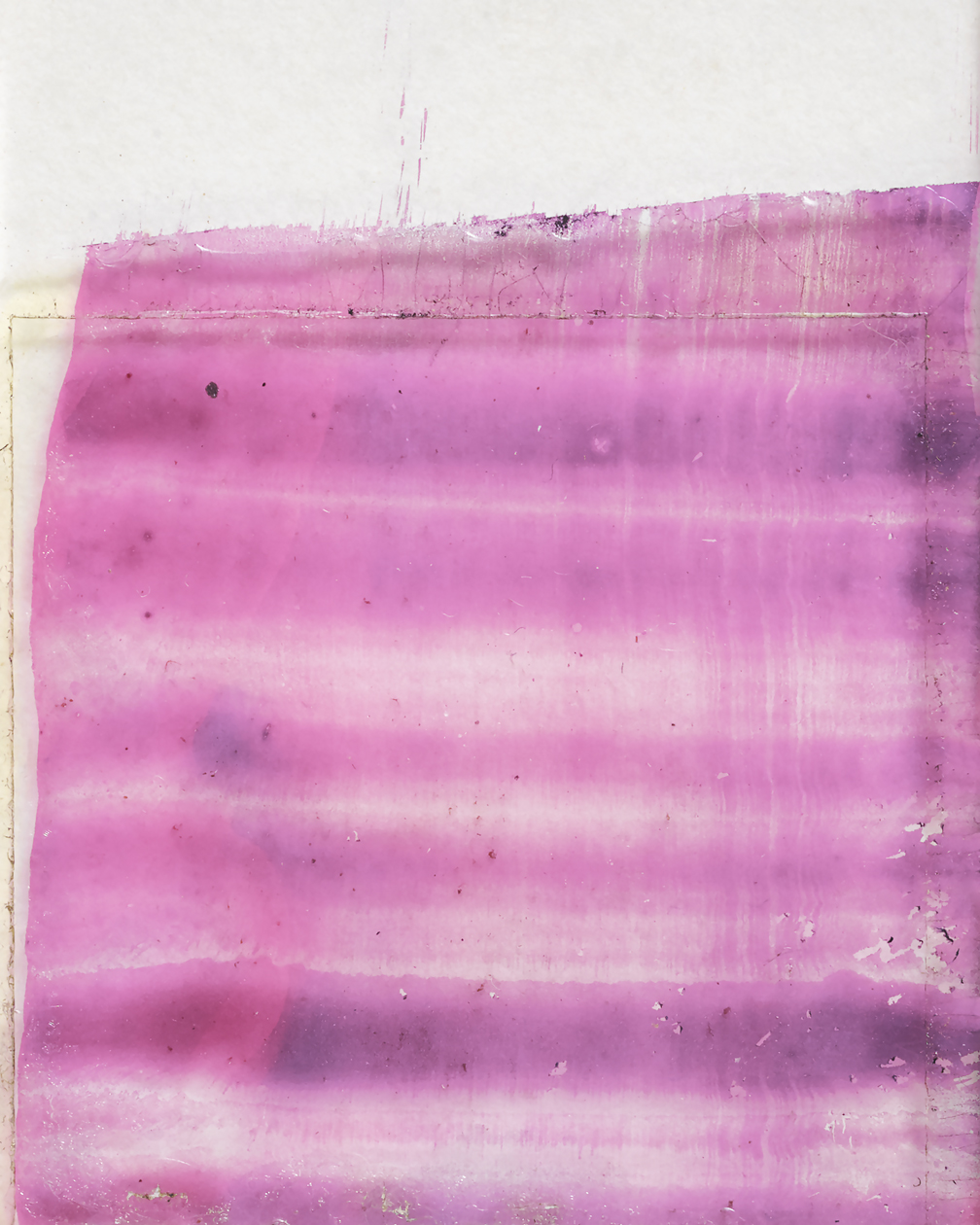 I am really inspired by her scientific way of thinking and her way of relating things. When she is tatting or making lace, she shows me how to pin down the piece that you are working on just like you would pin down an earthworm to dissect it. Who compares pinning down lace to dissecting a worm? Amazing!
RB: I never got the impression that, when you work with Margaret, you go to Margaret's and you're like, "Hey, we're going to do this." My understanding has always been that Margaret herself and her life and just her presence, she is the art or the inspiration, and you don't need to fabricate or direct anything.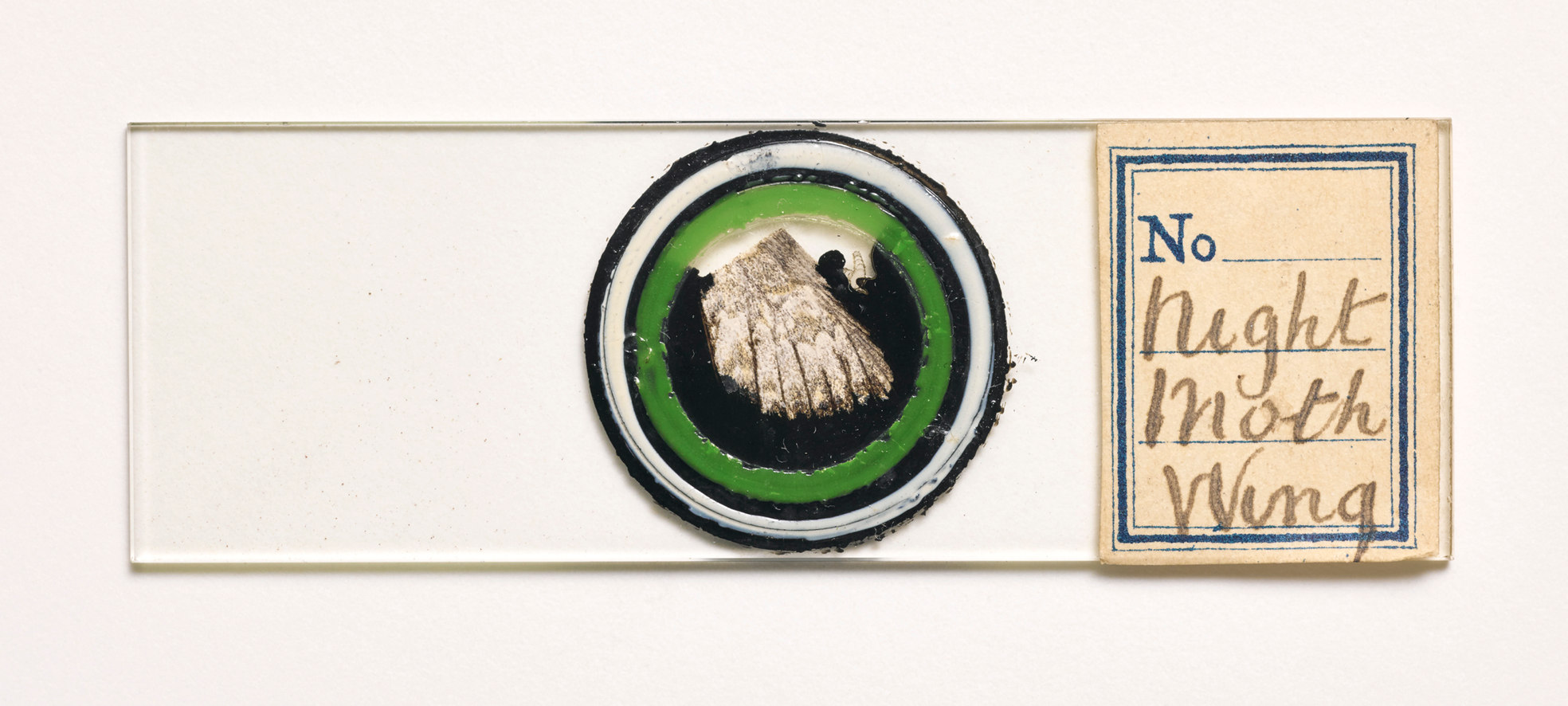 SW: That is exactly it. I make her everyday tasks more beautiful through light and shadow, and her stories make my photographs more beautiful.
I'll give you an example of how we work together. One day, after buttering and sharing bread with Margaret, she let me take a piece home. I watched as it began to rot, and I photographed it. When I brought her back the photograph of the molded bread, she wasn't mad that I had let it rot; instead, she started excitedly naming the types of mold on its surface. "There is rhizopus! And oh, look, we have made penicillin, that's the blue-green mold." So with Margaret I have learned that even in the rotten parts there can be beauty.
I still have that bread in my freezer.
RB: How long have you had it?
SW: Oh, gosh, I don't know, I think that I took that photograph in 2010. I want to bronze it, that piece of bread. There's a little top part that came off, but I can put it back on. I call it the bread fontanelle. The soft spot on a baby's head. Then I think of my brother, and I just start making connections. I think about a school picture I found of Russ. It is an 8×10 headshot, and I don't know how this happened, but there are all of these little pink stained spots on the top portion of the photo over his head and lapel. It looks like a light leak or something, but it's all pink splattered, but part of the emulsion. It is really beautiful, and at the same time for me it represents my brother's head wound. There are so many connections.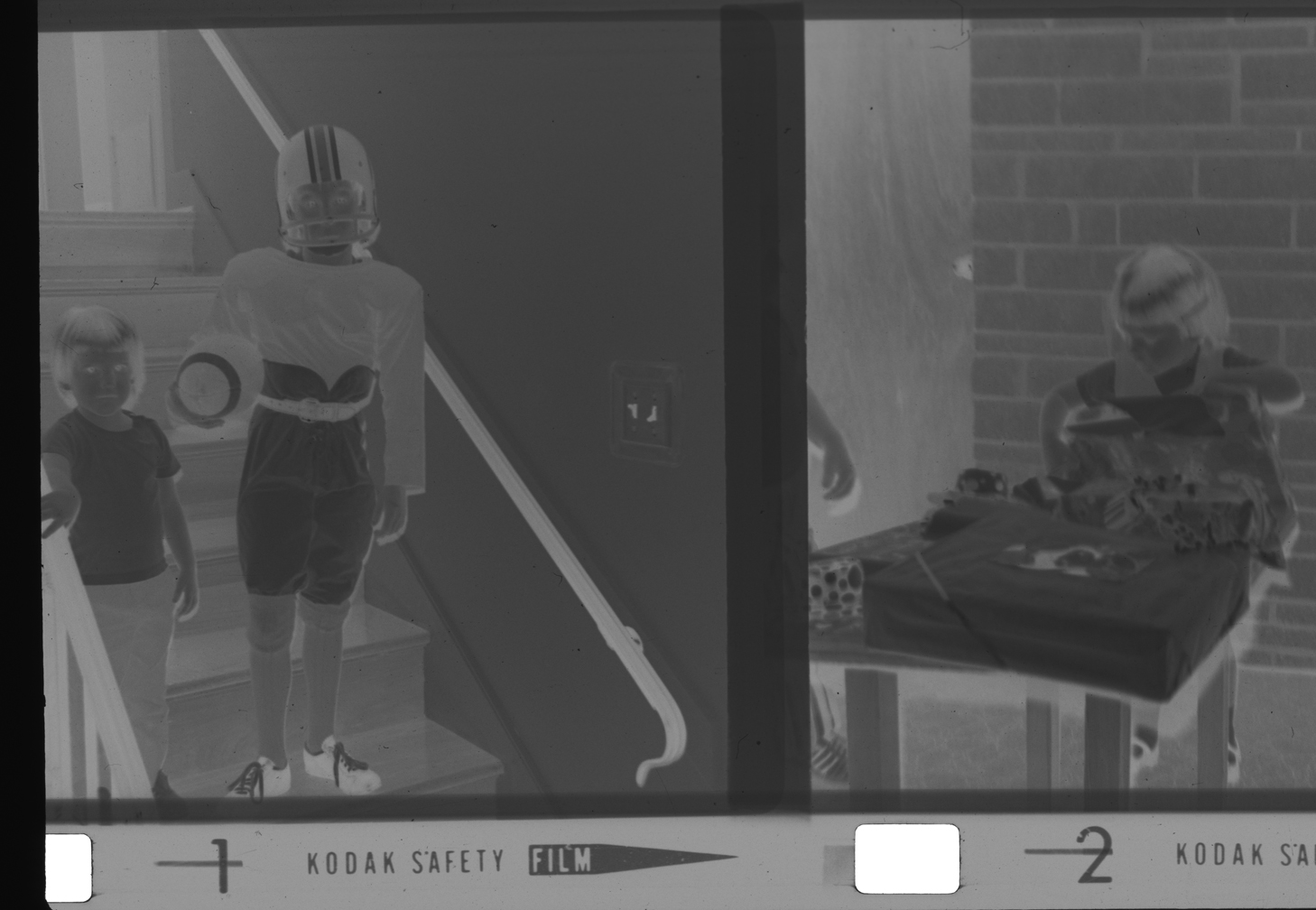 RB: Yes, you have to make that work for a long period of time to make those connections, and it seems like there's so much chance that brings you back to these things.
SW: Or maybe Margaret is there to lead me to them?
In one of our recorded conversations, Margaret talks about bringing the children to the persimmon tree at the university by our house, and how my brother always had a ring of persimmon stained around his mouth. I went to find that tree, and there were all of these—I don't know if they were marble or concrete, but there were these grave-like shapes stacked up where they were building on to the university. There was a little indent in the top of them where water had pooled and where all of the persimmons had fallen.
There were half-rotten bluish-black persimmons in this muddy black water mixed with newly fallen bright orange persimmons.
I immediately looked at it before I even looked through my camera and said, "Persimmon Grave." I went back later, and they were gone.
RB: How does the use of audio recordings contribute to your work and the multisensory experience it provides for your audience? This is one of my favorite things about your work.
SW: The recordings are my favorite, too. They are magical for me because they are Margaret in real time. There are no repeats if I miss something, so I have to be present.
The audio shares the same themes present in the work: loss, decay, regeneration. The photographs speak in one language and the audio in another, but they communicate, and in that conversation there are these pockets or spaces left for the viewer to enter. Because these conversations play freely in the gallery, it allows for many different connections to be made. It is pretty amazing when you are looking at the large photograph of bittersweet to hear the audio of Margaret wafting down. There are birds chirping in the background as Margaret's voice comes in. "Oh, you're right, it's eating those things, having a picnic, you watch 'em. Now there are two of them; oh, there's a cardinal. They're all eating bittersweet now. You know what they're doing. From now on they are gonna take that bittersweet out of there. You'll see a group of them come. That is really something. They are eating all of the bittersweet. But they come . . . birds that are on their way to somewhere. And others don't touch it. But you know what Beanie, Justyna's sister, said? Don't let her give you bittersweet. I said, why? You will rue the day that bittersweet ever came into your house." With the audio I have so much to choose from, and I can weave it together in different ways.
In one part, Margaret is talking about using a microtome knife to make sections of the kitty cat that she dissected in order to make slides. There is a small pause as that story finishes, and then you hear water streaming from a faucet while Margaret washes her kitchen knife. Then, in a slow sort of drawn-out way, she says, "This is the best knife for cutting cake, . . . cutting bread, . . . cutting pies."
I think my favorite recording is of Margaret's husband Harrison singing "Happy Birthday" to her. At one point he forgets the words, and Margaret and I sing it with him. It's quite beautiful when our voices come together. Margaret then makes a wish for many, many, many more happy days like we have known.
He died shortly after. On my website the first title was The Last Time Harrison Sang Happy Birthday to Margaret. The title gives the recording such emotional weight. Now I call it The Birthday Song because I would never want Margaret to go to my website and feel sad.
RB: When will you know that this project has come to an end? Why keep making the work?
SW: The early bird might get the worm, . . . but through time I get the apple the worm was feeding on, the tree that apple fell from, and the ground that holds its roots. When I think about the audio conversations, they would never have happened if I did not allow myself the time needed to make that discovery. The language that I use to describe my loss has grown with time. That language uses audio, photographs, sculpture, and even the stain of microscopic slides. The story of the persimmon tree and my brother's stained mouth is spoken through Margaret's voice/audio, through a photograph, Persimmon Grave, and now through the heavy weight of Carrara marble that rests on the gallery floor. I made a Fruit Grave where I had a stone carver carve the word "fruit" into the surface of the marble. It holds the emotional weight of the story but also speaks to the life cycle. The process of the fruit falling to the ground and fertilizing the soil so that new things can grow, and regeneration can take place.
So maybe this work will end, or maybe it will bleed into another body of work and become something else, but as long as I am still inspired, I will show up.