Margaret Mitchell is a Scottish photographer who uses environmental portraiture to explore community, family, home, social inequality, and childhood. Through "observation and listening" to her own family, she created a photographic series called Family in 1994. The series focuses on the lives of her sister Andrea and Andrea's three children, Steven, Kellie, and Chick. Family explores childhood set against the backdrop of an economically depressed community.

Over twenty years later Mitchell turned to her family once again, as subject for a second project, In This Place. Though there are still elements of childhood present, the focus is very much held on societal inequality and how it can limit lives and create hardships and challenges.

Both series ask many questions, but the hardest perhaps deal with social inequality. Mitchell asks if we have choices in life, or are they predetermined and made for us? This is so deeply married to "place"—place of birth, place of growing up—that by adulthood the cycle often repeats itself. But at the same time, there is hope, there is familial love, and as Mitchell emphasizes, "it is important to stress the good aspects in these communities that often get drowned out by stereotype." For the viewer this is probably the most important lesson of all.
---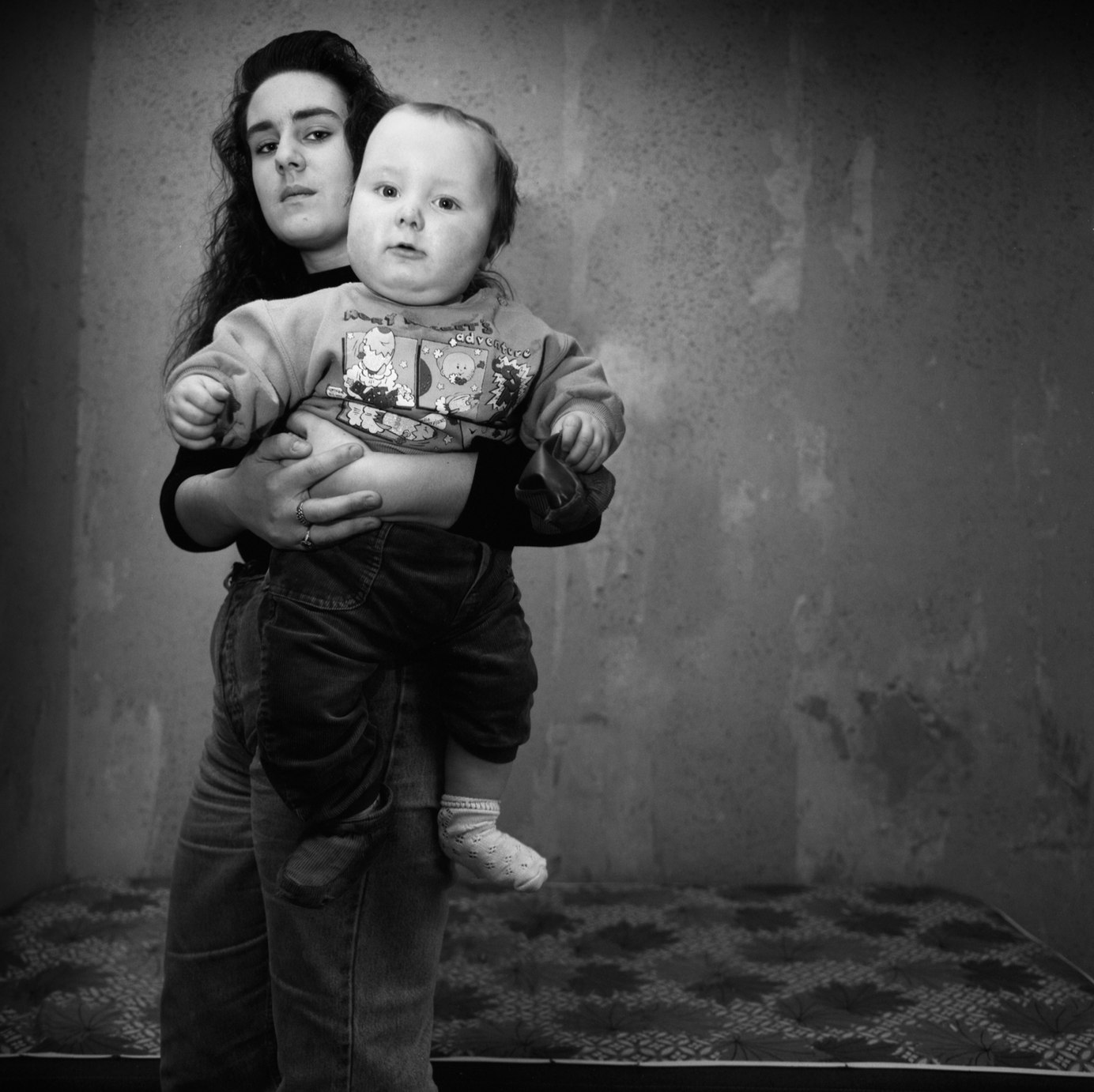 Bill Finger (BF): What first brought you to photography? And specifically, to your focus on portraiture?
Margaret Mitchell (MM): I left home when I was seventeen and spent several years working in various jobs abroad. During this time, I was also thinking about what I wanted to do, which turned out to be photography. I saved up, bought a camera, and returned to Scotland to study photography.
Portraiture for me was an evolving process. From the start, I was drawn to documentary practice, and at heart that's where my interest remains. But during the course of my degree, I became somewhat disillusioned with a traditional documentary approach and rejected it for a significant time. I concentrated more on environmental portraits, which I felt allowed a more collaborative approach, and this became the basis in my work as I got older. Nevertheless, I like to think that photography evolves with us and we should allow ourselves to remain open to extended or new ways of working if it suits that project. In general, I work within this area because of people and the experiences that shape them. I am intrigued by their lives.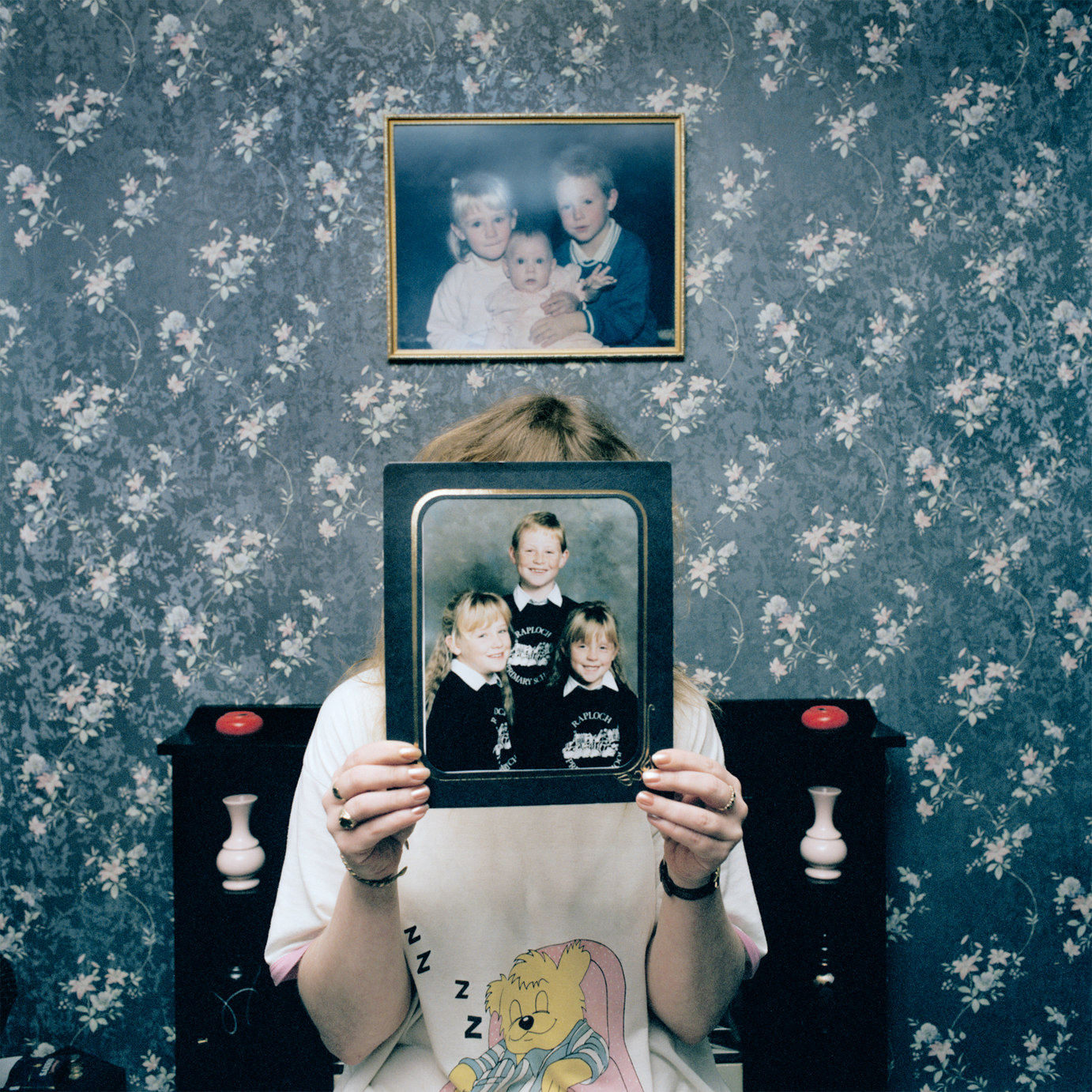 BF: Can you describe the Raploch in Stirling, Scotland, and your family's connection to it?
MM: The Raploch is an area in Stirling that is known for its social and economic deprivation. It scores high on the Scottish Index of Multiple Deprivation, which measures the quality of people's lives in terms of factors including health, employment, education, and housing. At the time of my family living there, it was still, for the most part, rented social housing. Although there has been much regeneration in recent years, it still scores in the top 5 percent in government statistics on deprived neighborhoods.
It is a place where there is great community but also a place where social issues sometimes overwhelm lives. In the 1990s, one of my sisters, my mum, and my brother were all living there for a time. Various circumstances and reasons had brought them there. Essentially, it is a story of lack of money and choice, really. It is important to stress the good aspects in these communities that often get drowned out by stereotype and snobbery.
BF: Did you grow up in a place like the Raploch?
MM: My own childhood was in two places. I come from a big family, and we lived initially in a council estate in a small village that also, statistically, has significant disadvantages. We moved to a "better" town where my dad had more job security, but we lived in a tied house. This meant that after his death when I was sixteen and my mum's unhappiness there, she returned—housing-wise—to what had been before. My parents had done what many do, they followed a path and moved somewhere to improve their family's lives. Whilst a happy childhood, it was also one where I perceived the UK class system, my place in society, to be reinforced considerably.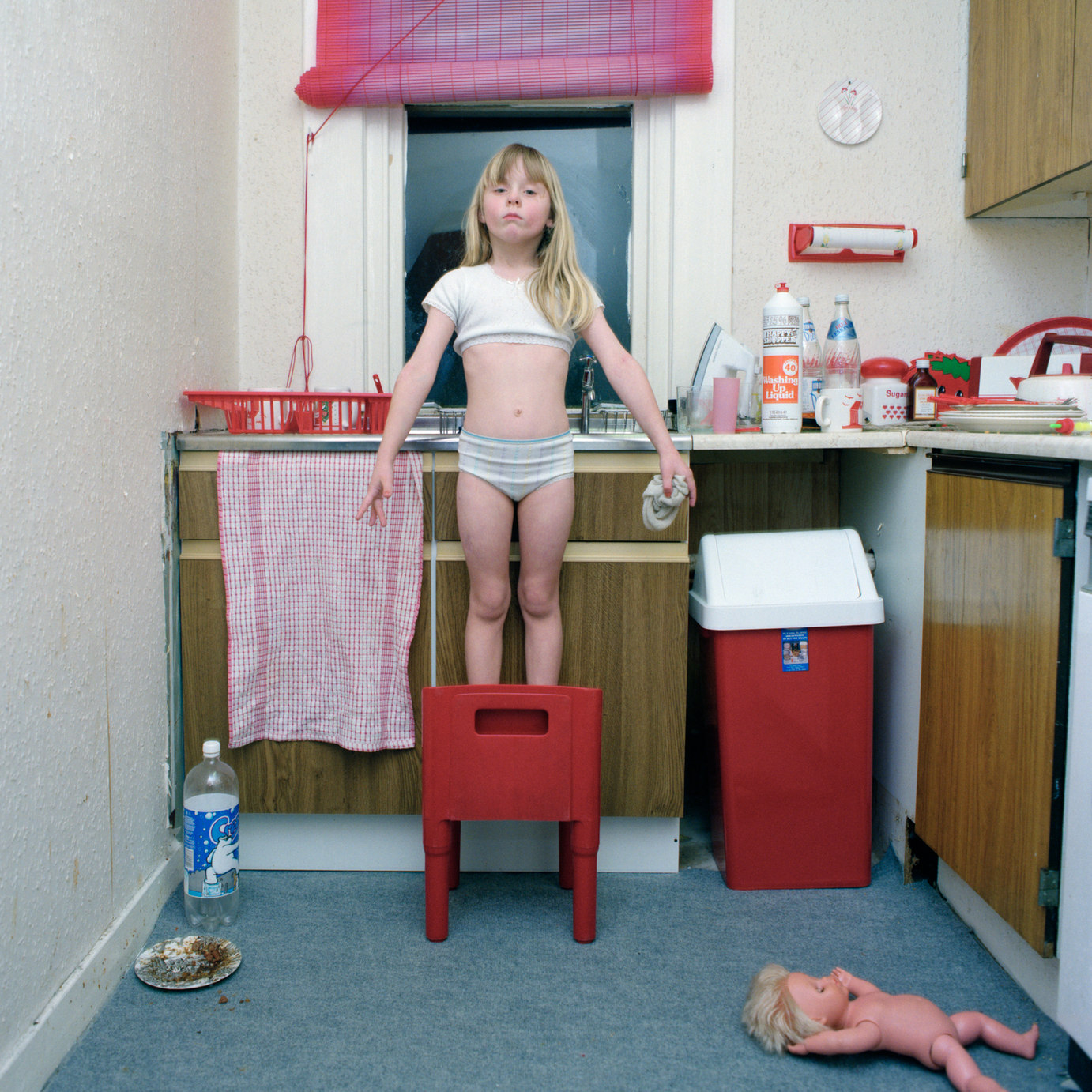 BF: You introduce your series The Eastern Wood with the following text, "Living in small and contained environments is a theme that reoccurs within my work." In what ways do you feel that the theme of "contained environments" is a part of these projects?
MM: I think that an environment can be mentally small or physically small. Often it has a degree of both. The Eastern Wood is a series of portraits of children in places or with "things" of significance to them within their locality where they are growing up. This area might be regarded as a rural idyll, where parents perhaps move to bring up their children or where people retire to. But the question for me is if growing up in small places can limit our views and experiences. Can it sometimes make a person afraid to see what else is possible? The other thing that occurs in small communities is that a status quo is often reinforced—that is sometimes a fantastic, positive experience, or it can be negative and restrictive.
The Eastern Wood and Family are within these contained environments. One more privileged than the other, but ultimately in stories about children and their lives, about childhoods.
BF: How do the physical aspects of place compare to the mental aspects of place?
MM: I think the two are intertwined, that one reinforces the other. Childhood is often a complex dance of domestic, social, and immediate environment factors. Depending on whether we are born into privilege or disadvantage, "place" can expand or contract on itself. My extended family from In This Place had become habituated to what they should expect in life, so much so that they couldn't see other options. They didn't view it as not normal, not acceptable, for a society to limit opportunities because of economic and social factors.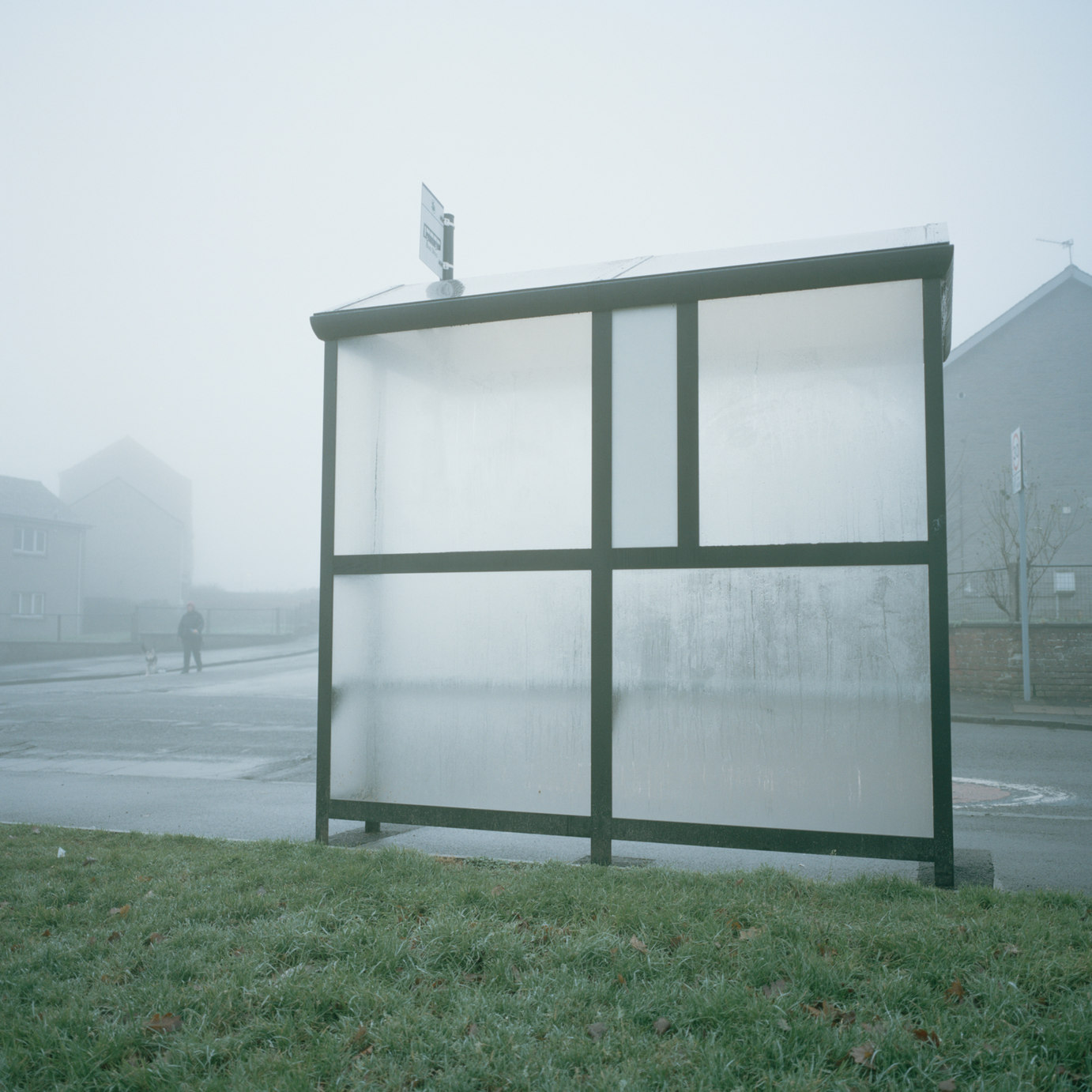 BF: Before Family there is at least one portrait of Andrea, but in Family her presence moves to the background. We see her in glimpses while interacting with her three children. Was there a point in photographing Family when the focus transitioned to the lives of her children?
MM: Yes, definitely. Andrea was initially a little reticent on being photographed, but she changed her mind very early on in the project. However, her casual remark contributed to how the project was shaped as I considered that her "invisibility" contributed to the core of this work. After the portrait of her hidden behind her children's school photo, I made the decision to keep her face out, that her absence was appropriate and symbolic on multiple levels. The work was very political in its premise; the family's life was one where a hostile government made it very difficult for people like Andrea to survive financially. She was also judged by the system because of who she was—a single mother by this point—and where she lived, on a "deprived" housing estate. The children's world was one of intense relationships. They came across as very interdependent as their lives played out in the interiors of both their own home and that of their gran. That is where the photographs found their story: in their childhoods containing both joy and difficulty, against this backdrop of a domestic life in the situation and circumstances of that place and that time.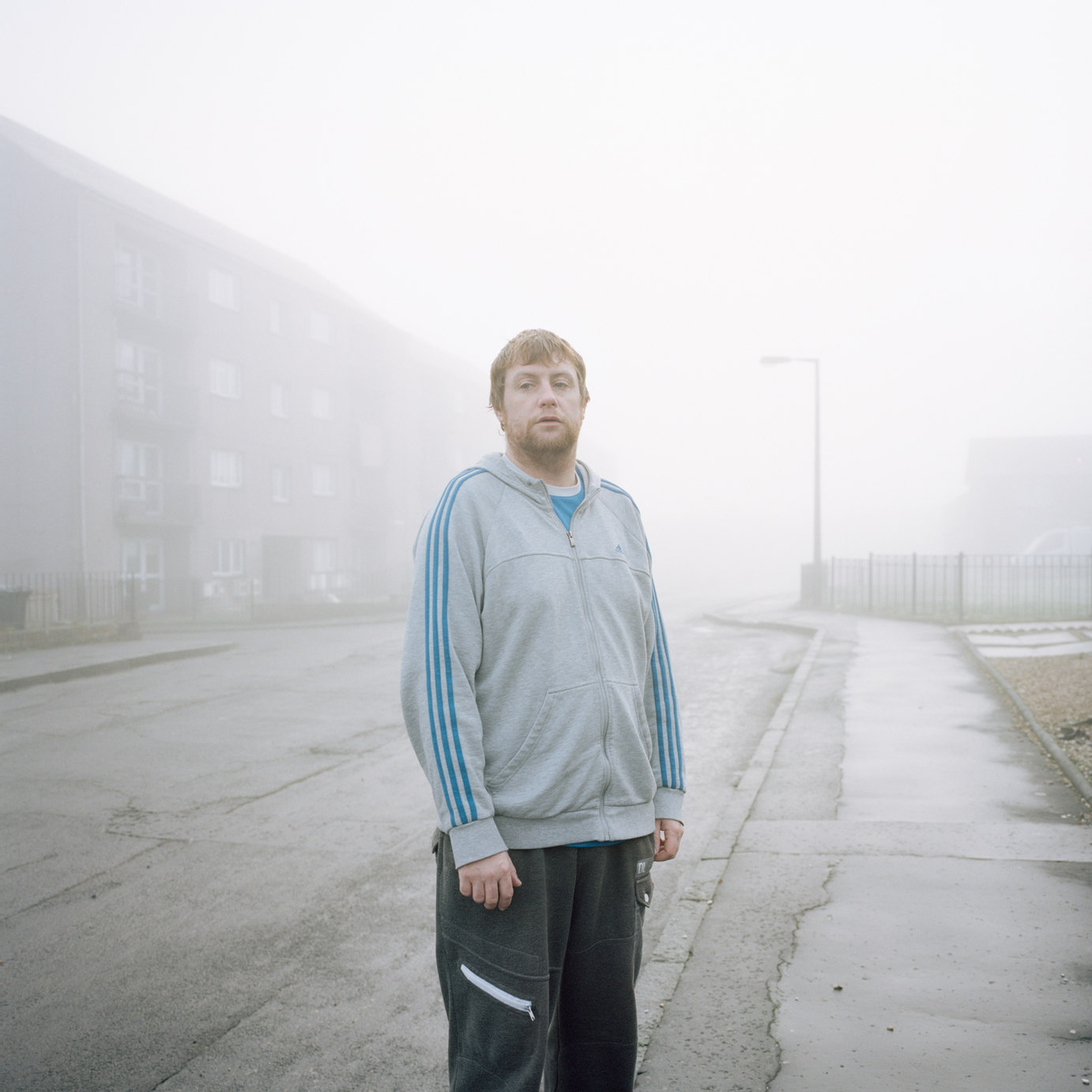 BF: What is it that brought your focus to the lives of children, both in these very personal projects, as well as other projects?
MM: I often photographed children and young people, sometimes individual portraits, sometimes as part of larger series. I am both intrigued and inspired by children and childhood worlds. I also studied psychology for a while, and a lot of my reading and research comes from strands within that. Nevertheless, my interest and practice preceded that and is only supported by it in terms of process. Work ranges from questions around the paths that we take in life, in the sense of what possibilities, what opportunities are available to us. Or finding ways of exploring the minds of children, what their worlds hold. Work has ranged from photographing children interrupted at play, to those within my own family on issues around inequality, to a recent series, The Youth House, that looks at questions of how opportunity can be brought to those who don't have equal access.
BF: Is part of the focus on children and teens, as photographic subjects, that they reflect a certain promise of a future not yet lived, but in these societal circumstances the outlook can be one of quiet disappointment?
MM: Yes, and that goes back to the idea of where we are born on the social ladder, what choices and opportunities that affords us. All the various aspects that can affect a child, a life. With kind, supportive, and positive intervention, can society provide for children who might otherwise be disregarded? As a photographer working in these areas, part of my role is to amplify those lives, those situations, allow more visibility of the issues. I would say that The Eastern Wood and projects like Interruptions are more reflective on the state of being a child, not as political about children's lives as The Youth House or the work with my extended family.
BF: How do you feel that "place" determines who we become as adults? How delicate is the balance between potential and certain societal "predetermining" factors?
MM: I don't think that place is the whole story, that we are devoid of agency, but agency is a process that is variable according to what a child has been surrounded by, within the home, school, and wider society. Place certainly comes into it in a very significant way but becomes mixed with other aspects. For those who start off with less privileged lives, adversity often accumulates; it isn't just one thing but a whole host of disadvantages. If we are disempowered as children, if we feel a lack of the ability to choose a path in life, if we lack money, lack support, live in environments which do not offer good opportunities, then the question and nature of choice itself become narrower.
BF: What brought you to reexamine and once again photograph Steven, Kellie, and Chick twenty years later?
MM: The work came from a question: I looked at where the family had started in life and where they were now, and I asked myself why. Throughout their childhoods, I'd reflected on how much opportunity they had compared to other people. So the work came from questioning inequality within the UK, asking where its source lay, work that is obviously very close to me but repeated in terms of inequality in countless households and cultures. The project started from a "photographic itch"—to return to pick up photographically on something from over twenty years before—but also, because of the passage of time, there was an important message about how society operates. To ask if we have choices in life or are some lives largely predetermined by social and economic circumstance. In the first series, Family, I was pulled in by the politics of my sister's situation, but the work became deeply personal about the children and their childhood world. Over twenty years later, I felt a hugely personal pull which became deeply political. But these cannot be separated in lives such as my family's; the political and the personal are enmeshed.
BF: Obviously there have been many changes in their lives into adulthood. But how have you changed twenty years later, and how did that affect your approach? How has your relationship with them changed over this time? And did photographing them again affect this?
MM: There were two main factors that pulled me into this work. One was the photography, and the other was personal hope that our relationship would deepen. I am an aunt and great-aunt to them, I live in a different town, I am older, a different generation. After my sister, their mum, died, I felt that my relationship with them was slipping away somewhat, and I hoped through working together we could strengthen it. And that happened; I became part of their furniture again to an extent, like I was when they were young, and our relationship has remained stronger.
When I made the first work, I was a student in my final year living in Edinburgh, and I'd go through often, sleep on the settee; I was part of that world. It was also at a time when I was finding my way in photography, how to tell a story, how to represent others. I am older now, but much of my approach remains the same, about observation and listening, those two things help make the images. The second series contains more environmental portraits, quieter images, but the wider series also allowed me to go back to my documentary roots and loosen up a bit again.
BF: How do Steven, Kellie, and Chick, now that they are older, see their lives? And how do they view the "place" in which they live?
MM: The three are all different people, and all have shared different views on their lives. One thing that is important to say is that the need to belong, to be part of something larger, is central in this work. Chick wants to live where she does, it is home to her. And this is a really fundamental part to take away from this work. That it is not a judgement on the place or on them, but a question and reflection on how society is constructed that makes them believe they are not entitled to more in life. What happens to cause that?
BF: Do you feel that In This Place is, in part, a transition away from Steven, Kellie, and Chick to their children, the next generation? That they move to the background, similar to the way Andrea is represented? Perhaps that their lives have been made static by society, in contrast to their children who have the possibility of mobility?
MM: The original children are still represented and more so than Andrea was, but yes, their children perhaps come across as the stronger focus—that's where the outcome of all that has gone before is increasingly evident. I am not convinced that there is a possibility of mobility, unfortunately, because by the time young adulthood is reached, limitations are firmly entrenched. The third series, Into Absence, which is not yet fully public, will provide some answers. In general though, that is for a potential future documentation, to let time pass, and if the family want to continue as well. I hope that their choices widen and it is allowed by the systems in society for that change to happen.
BF: In writing about your imagery for the National Galleries of Scotland, you talk about "an interior place—what we (are led to) believe we can do—or an external place, that 'allows' us choices in life." I noticed that the portraits for Family tend to be in interior places, while those for In This Place tend be in external places. Can a correlation be drawn to this?
MM: The first series was very much about the internal lives of the three children and their relationships with one another. I was very much aware that, because of the reputation of the area they lived in, any photographs made might be subsumed by the place, what people thought about it, by stereotype. When I began to update the work, they had moved to the other side of town, to a new but similar place—the external then became the focus precisely because of what had not changed in their social landscape in over twenty years.
BF: How much collaboration occurs in photographing family members? I think of your walk with Steven, where he takes you to a "nice place" that he knows that holds meaning for him. This reminded me of your series The Eastern Wood, where you had your subjects share objects or places of importance for their portrait.
MM: There is always an element of collaboration in all the work I do which depends on whether it is short- or long-term. It is just a process that occurred naturally for me. I am quite self-contained, somewhat reserved, and have to get past that to get photographs in general. People also loosen up, even family members, when you go for a walk, involve them in the process, and this helps find the right image to represent them and part of their story.
MM: I've always been interested in having text with imagery, and various projects over the years have made use of it. Some work doesn't need individual additional captions. For example, most of the work in Family doesn't, where the images build upon each other to create a wider narrative. Within In This Place, more text was used because images alone could not narrate the story. I made a newsprint for its first exhibition, then also added narrated video. Current work from my ongoing series An Ordinary Eden uses a significant number of interviews which will be used as some form of text in the final presentation.
BF: Where do you see Into Absence taking you next? Do you see it becoming a part of a three-part whole that focuses on family, place, and society?
MM: That work is a continuation in the sense that it is the same extended family, but it also concentrates on a very distinct strand, that of Kellie and her children as they face up to her ill-health and ever-changing circumstances. This obviously has a knock-on effect within the wider family because illness never just affects those who are ill. When a person is already socially disadvantaged, living in a precarious economic situation, their lack of power cascades down throughout their entire life. The fallout, the implications, pushes its way throughout all.
BF: What would you like viewers to take away from viewing Family and In This Place? And do you prefer that they be viewed together?
MM: I hope that people will look at the projects in two main ways. At the lives that are lived and the individuals in the images; that they see the love, the connection, the resilience, but also consider the loss, the difficulty. But also, I hope viewers are left with questions about how society operates, about the role of opportunity and environment, about issues around inequality and the cycle of disadvantage across generations.
The series do not need to be viewed together; I didn't make In This Place in order to show it with Family. I believe they are quite different projects which stand alone, but the understanding of In This Place is increased from having knowledge of the first work. The two series are brought together in a book, Passage, published by Bluecoat Press shortly. This, I hope, will enhance an understanding of issues that are often hidden or misunderstood, of other people and other lives in our society.